Solving Home Plumbing Emergencies Since 1988
Turning on a faucet and getting nothing or coming home to a pool of water on the floor are problems nobody wants. We get it. While plumbing remains something of a modern miracle, we expect it to just work - and it's frustrating when it doesn't. Working to ease that frustration and take care of people's homes is the entire purpose for which Ricky Heath Plumbing was founded.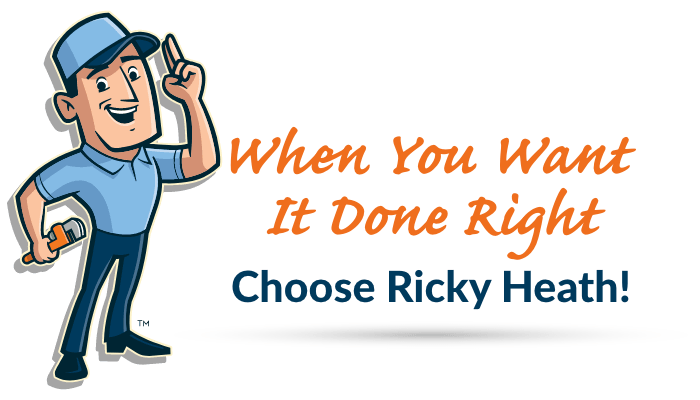 We're proud to be a part of this state and this community, but we take even more pride in being there when our customers need us. It's not profit that drives us or growth - it's the simple knowledge that our actions have made someone's day better.
Our Core Values Help Us To Put Our Customers First
We don't see ourselves as just plumbers. We see ourselves as partners in the well-being of our customers, our employees, and our community. We, as a family, aim to create a guarantee that plumbing problems besetting the people of Central Georgia are met with care, expertise, and a sense of belonging. To accomplish this, we hold to these five core values:
Excellence In Plumbing - We are dedicated to delivering the highest quality plumbing services. From routine repairs to complex installations, our skilled team strives for excellence in every project we undertake.
Employee Well-Being - Our employees are the heart of our family. We are committed to their growth, safety, and well-being. By fostering a supportive work environment, we empower our team to excel in their roles.
Client Satisfaction - Our clients are not just customers; they are an extension of our family. We listen attentively to their needs, offer transparent solutions, and ensure their plumbing concerns are resolved promptly and effectively.
Community Engagement - We believe in giving back to the community that has embraced us as family. Through various initiatives and outreach programs, we contribute to the betterment of Middle Georgia, making it a better place for all.
Integrity & Trust - Honesty and trustworthiness are the cornerstones of our business. We maintain the highest ethical standards in all our interactions, ensuring that our clients and employees can rely on us.
Good Plumbing Is A Vital Part Of Everyday Life. We'll Take Care Of Yours.
We like to keep it simple. You give us a call. We come out. We find out what you need, and we get it done. Then you get on with enjoying your home and family instead of stressing over pipes and water. That mindset has kept us in business for 35 years, and we're excited to see where the next 35 takes us, our employees, our customers, and our community. If you're already a customer, we're happy you're a part of our family... if you aren't just yet, we can't wait to meet you. If there's anything at all we can do to make your life easier, send us a message online or call us at 478-738-0882 . We'll be there for you, any time.